Winter weddings are so romantic, especially when you get just a little bit of snow.  Laura and Andrew's wedding was the perfect winter setting!  They hosted their ceremony and reception at the Paine Estate, a historical home in Massachusetts.  The house had a traditional New England flair that was perfect for a winter wedding.  We woke up that morning to a few inches of snow, so the grounds were covered and sparkling.  The house was decorated for the holidays and everything seemed magical.  Laura went right along with the holiday theme with her decor.  Now I have to admit, when I hear a client tell me they are going with some romantic holiday decor, I start to worry.  It's very easy to go overboard with that kind of theme!  But Laura's taste was impeccable.  The tables were dressed in just the right color red and just enough accents of white.  It truly was romantic and elegant with a touch of holiday flair.  Here are a few of my favorite images from the day.
I arrived a bit early and was able to shoot some of the beautiful snow covered landscape.  It looked just dreamy.  When Laura arrived, we started getting ready in one of the private rooms in the house.  Despite the chilly temps, Laura wore a stunning backless wedding gown!  She's a brave girl for sure.  She also rocked a fabulous headpiece instead of a veil  Check out her gorgeous look!

We arranged for their first look in one of the smaller rooms in the house.  It was beautifully decorated for the holidays.  I love the look on Andrew's face when he finally saw the back of Laura's dress!  And I'm so thrilled they were brave enough to step out into the snow for some formal photos.  You'll notice, as the session progressed we convinced Laura and Andrew to take off more and more layers.  They were total troopers!

The ceremony was right in the front of the historical home.  It was a lovely ceremony celebrated by Laura's cousin.  They incorporated an old tradition and a new tradition.  The modern sand ceremony (in their wedding colors of red and white) signified the blending of their two lives.  They also incorporated the older African American tradition of jumping the broom which is said to originate from a tradition in Western Africa in the 1600's.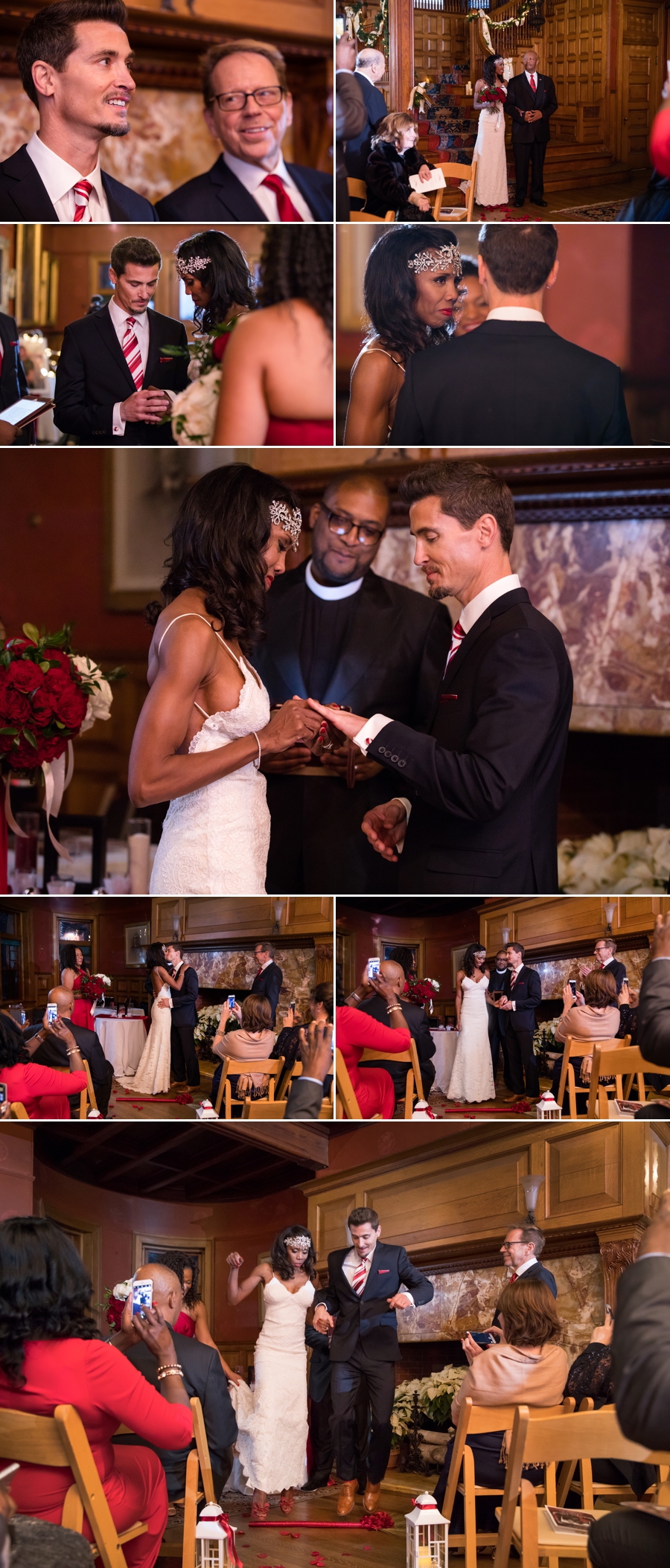 The house was perfect for a cozy, intimate reception.  Guests really seemed to enjoy each others company.  Check out their gorgeous holiday themed decor!

Some of my favorite images from the day came at the very end.  Laura changed into a beautiful, beaded, short, party dress.  When we got to the room for her to change, it was very dimly lit by a single bare bulb.  I was worried about the lack of light, but I didn't want to spoil the mood with a big, bright flash.  I took these photos with the light from that one bulb and I'm in love with them!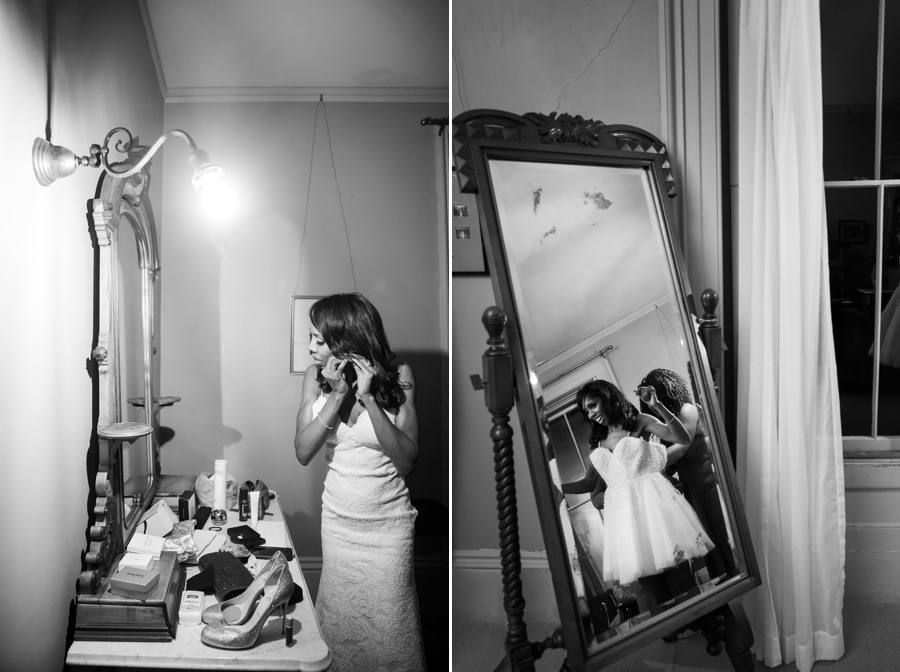 Don't forget to check out their full slide show!
 VENDORS
Florist – Flourishing Flowers
Ceremony and Reception Venue – Paine Estate
Pianist – Robert Finley
DJ – Chris Lewis