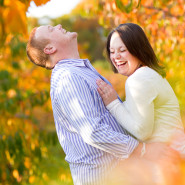 An Autumn Engagement Session in New England
I'm cold!  And to keep warm, I've decided to remember more comfortable times.  Here is one of my favorite engagement sessions from this past fall.
When I was contacted by Carlie and Connor about their wedding photography, I was so excited!  Connor is a member of one of my favorite families, the Donovans.  This will be the third Donovan family wedding I've photographed and I'm really looking forward to it!  Carlie and Connor decided to have their engagement session at Smolak Farms and it was a beautiful choice!  Smolak Farms demonstrates much of New England's beauty in the Fall and was the perfect backdrop for this fun couple.  The colors are just beautiful!